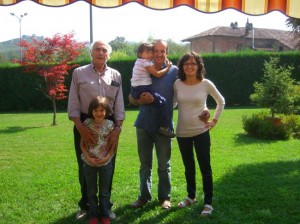 In a location eloquently symbolic of Barolo, right at the interface between Barolo's historic Cannubi hill and La Morra's Brunate, born our winery founded in the early 1930s that is the classic family-run wine estate.
We make wine produced exclusively from grapes coming from our own vineyards that lie in one of the best positions of La Morra: "cru" Brunate.
Our family has used its experience towards obtaining high quality wines while respecting tradition and environment fully. Our work has always been based on few and simple production rules, keeping all the traditional passages that render our wines genuine and unchanged.
The emotional attachment to this land and to these vineyards has been handed down from father to son. Today, Francesco Borgogno's sons (Giancarlo and Claudio) direct the winery, flanked by Claudio's wife Silvia.
Together they check every step in the production of their wine starting with the vineyards and following with the winemaking and the care of the cellar.
Apart from Barolo, the company produces Dolcetto d'Alba, Barbera d'Alba, Langhe Nebbiolo and Langhe Favorita.
THE CELLAR
We own approx 7 hectars of land and we produce every year 35.000 bottles of wine always using classical method with ageing in big wood barrels without use of barriques.
WINE-MAKING
The vinification is made under temperature controlled after the pressing of grapes. The process of fermentation and maceration are different for each type of wine and every step is followed from us with the help of expert of oenology Piero Ballario.
AGEING
At the end of making process, wines will be moved in wood barrel for ageing in our underfloor cellar. Barrels are made with wood Rovere di Slavonia (30 or 50 hl). Dolcetto and the Favorita wine stay just in steel and not in wood. Barolo remains for 4 years in this wood barrel; Barbera and Nebbiolo remain between 6 and 8 months in wood barrel from 7 hl approx.
Contact us to visit our cellar