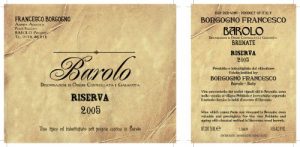 Barolo's wine born in these prestigious land and we dedicated love and meticulous work for the entire year. We start with the winter pruning of the vineyards ("guyot" method), followed by other jobs of allegation, cleaning and cutting of the vine until up to an accurate selection of the best bunches during harvest. Then the process of the product's transformation begins: wine-making starts in the Barolo winery with pressing and the traditional fermentation of about thirty days.
The entire philosophy of our Barolo Brunate is rigorously traditional, with fairly lengthy macerations followed by long maturations of about three years in 30 or 50-hectolitre oak Slavonian barrels and 12 months' bottle-ageing before release.
We don't use barriques because we prefer the classical ageing in big barrel. It can be enjoyed after a few months in the bottle, but will continue improving and developing its elegance during the years…. it is the true jewel of italian and international enology.
TASTING NOTE
Colour: Ruby red, very intensive red
Fragrance: Very pleasant and delicate, recalling wilted roses and notes liquorice and wood vanilla
Taste: Velvety, dry, rounded, rich and balanced in body and structure
Temperature: 18/19 C
Gastronomic's combining: Risottos, fondues, game, red meat and meat in general (roasts, grilled or skewered)
WINE MAKING
Harvest: Middle / End of October
Wine making: Classic method without barriques
Maturity: in Slavonian wooden barrels
Vintage: 2005
Ageing: in bottles
Bottle sized: 750 ml
Bottles produced (n°): 5.000 per year
To drink: better in decanter
VINEYARD
Area of production: Brunate – La Morra
Vine: Nebbiolo da Barolo 100%
Cru: Brunate
Village: La Morra
Altitude: 350 m
Solar Exposure: South West
Breeding kind: spalliera / guyot method
Kg of grapes for hectare: 8000
Soil: Gravely clay
Year plant: 1973 and 2000
Surface: 4 hectare
CHEMICAL INFORMATIONS
Alcohol in vol (%): 14.08 % vol.
Total acidity: 5.7 g/L
Dry Extract: 25.9 g/L
pH: 3.46
Sodium: 9 mg/L
Litio: 19 ug/L